Alte Village
As the poet would say, Alte was born and still grows in the cosiness of the four hills that surround it: Galvana, Francelheira, Castelo and Rocha Maior. The stream that crosses it, from Fonte Grande to Queda do Vigário, has marked its personality and that of its inhabitants. Alte, with an area of approximately 96 km2 and a population of 1997 inhabitants, is situated in the inland Algarve, northwest of the municipality of Loulé. With a typically Mediterranean landscape, it comprises areas of both Barrocal and Serra.
In the romantic streets of the village, with traditional cobbled streets, patios and flower beds of geraniums, echoed for a long time the sound of the maces crushing the esparto, a wild plant that nature offered to man, and that marked the economic and social life of the whole parish. The village, of great interest for its typicality, features white houses with handcrafted chimneys, which contrast with the colourful flower boxes, encouraging a stroll through the narrow alleys and cobbled steps. The affluence of tourists is enormous, attracting the visitor installed on the coast, but also the ecotourism lovers walking in the Via Algarviana. Santa Margarida, formerly Vila Verde do Vale, according to the legend that explains the existence of Alte, prior to the parish seat, is a reference locality in the proximity of the copper extraction sites that still occurred there a few centuries ago.
The economy, mainly agricultural, dryland farming and still based on practices inherited from ancient times, to which, more recently, extensive orange groves have been added, it is also associated to the production of "medronho" firewater, honey and sweets. The handicrafts carried out in Alte using clay and ceramic paste, wood and coloured fabrics dyied using local plants are particularly noteworthy. Music was relevant in the life and identity of Alte - the "Rancho Folclórico da Casa do Povo de Alte" and the "Velhos da Torre" - the festivities - the 1st of May, Alte's MTB, Alte's Carnival, religious festivities, Youth Party in Monte Ruivo, are only some of the significant events and elements which promote the reunion, the conviviality and the party.
Must-see places: Alte parish church, museological pole and tourism office, Alte streets with their nooks and crannies and architectural details, artistic interventions, Ribeira d'Alte, its spring, the natural pool fed by spring water, weirs, namely Moinho da Levada, Fonte Grande, Fonte Pequena and Queda do Vigário, Brinquedos da Torre (handicraft in wood), D'Alte Ceramics, the "Horta das Artes".
PARTILHAR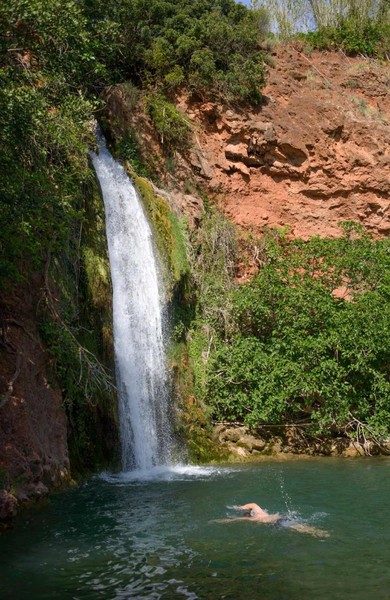 Aldeias Tradicionais
Outras Aldeias